Home Incense & Herbal Enchantments Candle Magick Pentacles & More
Amulets & Talismans Tools for Practitioners Recordings
Home of WHITE LIGHT PENTACLES/SACRED SPIRIT PRODUCTS INC.
Excellence and Authenticity in Witchcraft and Magickal Supplies since 1981 e.v.
"Traditional Magicks for the New Aeon"
P.O. Box 8163 Salem, Massachusetts 01971 88 Wharf Street Pickering Wharf
Phone: 1-800-Mastery ( 800-627-8379 ) Fax: 1-978-744-3296
Connect with the Mysteries of the Great Goddess Hecate
Hecate's Wheel
This wheel is a symbol of great antiquity with serpentine windings that spiral about a stylized hexagon. The Chaldaen Oracle refers to the Void center point of this design as " the Life-producing bosom of Hecate", that Fountain of Living Fire which clothes itself in Matter to manifest Existence.
Due to market fluctuations and increases in Sterling Silver all prices are subject to change without notice.
Available as a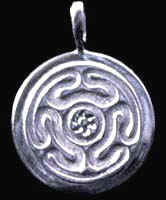 1" and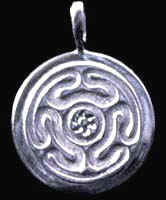 1.5" Sterling Silver Pendant
@ $72.00 and @ $135.00
Hecate Stoneware Altar Accessories
Shown in silver on purple with amethyst stone also available in silver on black with moonstone.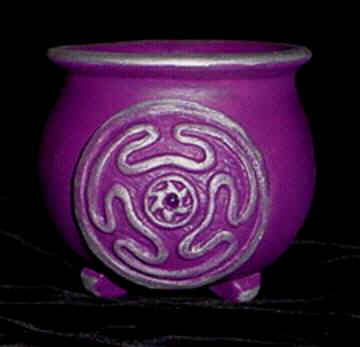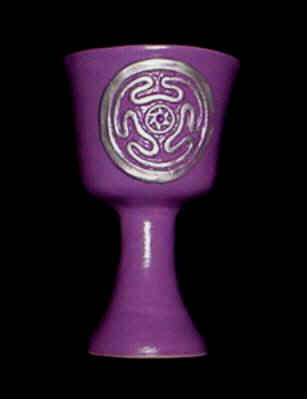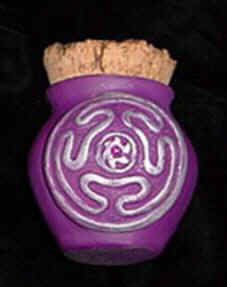 Cauldron @ $30.00 Chalice @ $70.00 Corked Jar @ $29.00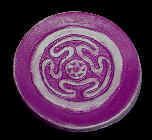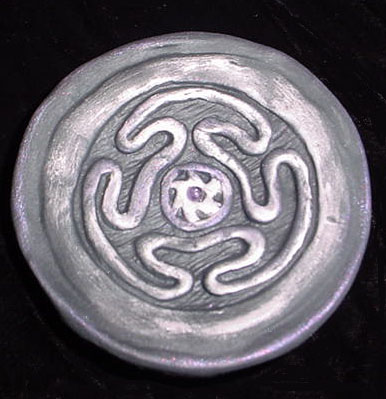 Footed Altar Platter @ $18.00
Shown silver on purple finish or purple on weathered stone finish
All pieces feature central amethyst cabachon stone
Hecate Triformus Plaque @ $60.00
(8" x 11") Shown in weathered Stone/Silver/Gold
also available in Antique Black/Silver/Purple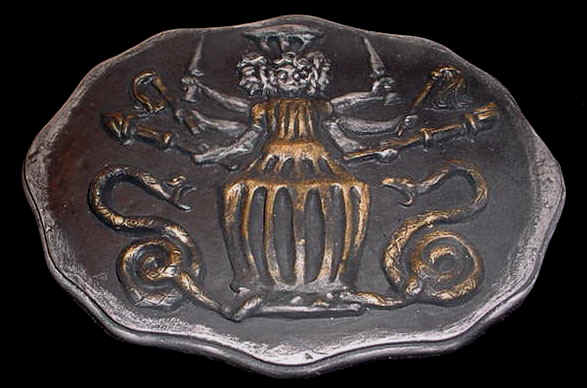 The Goddess Hecate is an ancient and most complex deity who appears in the myths and religions of many cultures. Her portrayal here as a three fold figure of awesome power shows her carrying two torches in her role as a "light bringer", "birth giver" and "motherly protectress", while also carrying daggers and flails in her chthonic persona as the "fearsome and dangerous crone ". Many practitioners consider her to be Maiden, Mother and Crone - The Triple Goddess. The Goddess Hecate is the Patroness and Protectress of All Witches and workers of magick.
We have thousands of authentic, effective and potent magickal supplies for you to purchase and knowledgeable practitioners from whom to order them. CALL US @ 1-800-Mastery (627-8379) or fax us at (978) 744-3296. You may also email your orders to us at wlpssp@comcast.net and we will come up with a total for you and send you an email with a PayPal link or you may fax us your credit card information or we will work out another method of payment. We are in the process of creating a new shopping cart and web store, so please be patient during our transformations. In the meantime, happy shopping!
With Love from Salem, Yours in the Great Work