Home Incense & Herbal Enchantments Candle Magick Pentacles & More
Amulets & Talismans Tools for Practitioners Recordings
Home of WHITE LIGHT PENTACLES/SACRED SPIRIT PRODUCTS INC.
Excellence and Authenticity in Witchcraft and Magickal Supplies since 1981 e.v.
"Traditional Magicks for the New Aeon"
P.O. Box 8163 Salem, Massachusetts 01971 88 Wharf Street Pickering Wharf
Phone: 1-800-Mastery ( 800-627-8379 ) Fax: 978-744-3296 Email us
The Nu Aeon School of the Mysteries Presents:
In the Cosmic Connection Temple of Stars
A Story Telling session and workshop about the magic that made the world!
Rev. High Priest Orion Foxwood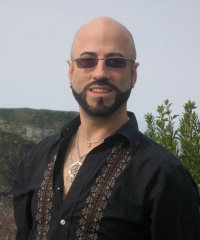 Tales of the Otherworld:
Encountering the Wisdom Keepers of Witchery
& Ancestral Spirits of Magic.
"As Witches....WE ARE NEVER ALONE! It's time to share tales of Old Time Witchery! Witchcraft is a magical practice as old as time. Its roots run deep and its branches run high. In fact, you would be hard pressed to find one culture in the world that doesn't have Witches in their legends and mystical landscape. It is an eternal presence in the soul of humanity. Its wisdom and power runs through time, place, culture and the hidden gray roads of spirit and it can be reached, tapped and encountered as a stream of magical presence. When we enter the witches circle, light the magic candle and send our voices through the dark spaces of the Witches cauldron - They reach back and the magic flows."
$35.00 per person
Acquire your tickets now.
Seating limited in this intimate setting.
We invite you to share sacred space and enjoy with us an entertaining and inspiring candle light evening with Orion Foxwood. Orion is a family friend, a brother in the Art Magickal, a Witch, a Root Doctor, a Faery Seer, published writer and more. As a traveling teacher and ritual facilitator, Orion has many stories to tell. His true stories about magick and his journeys in this world and behind the veil are amazing. Even as some of our honored Elders have become their bodies of light and now guard and guide us in SPIRIT, we have many, many wonderful teachers and enchanted personalities in our community that are dedicated to share as much light, love and wisdom with as many as possible, and Orion is one of the BEST!
***All who enter the temple will be asked to take off their shoes. No exceptions. No horrible costumes or masks will be allowed in the Temple of Stars, so dress in your best Witch finery! Light refreshments will be offered after the presentation. For more information call 1-800-Mastery and leave a recorded message. See you there.
Blessed Be With Love From Salem

Psychic Intuitive Readings with Frater Hyperion