Special Events at our Salem store, NU AEON

*** Click here for the Cosmic Connection Temple of Stars at NU AEON The Nu Aeon School of the Mysteries ***

Welcome to NU AEON on line!!

A Salem Witchcraft Magick Lifestyle Store

Real Magick! Real Witchcraft!

Amulets & Talismans Tools for Practitioners Recordings


Empowerment, Enlightenment, Illumination!

Time to unbuckle the bible belt, throw open the doors to our closets, and let all the cats out of the bag! Time for the Holy Art of Magick to encircle the World and end the tunnel vision of monotheism. Time for an end to unholy wars. Let's welcome in the New Aeon on the New Earth!

TM

Home of WHITE LIGHT PENTACLES/SACRED SPIRIT PRODUCTS INC.

P.O. Box 8163 Salem, MA 01971 88 Wharf Street Pickering Wharf

Phone: 1-800-Mastery ( 800-627-8379 ) Fax: 978-744-3296 email us

"Traditional Magicks for the New Aeon"

Excellence and Authenticity in Witchcraft and Magickal Supplies since 1981 e.v.
Here are authentic, effective and potent talismans and magickal tools for the performance of ritual and attunement with Cosmic Mind and Divine Forces. Together we can raise the level of human consciousness on this planet and create a shared reality filled with Light, Power, Knowledge and Love. So Mote It Be.
CALL US @ 1-800-Mastery (800-627-8379) with your questions and/or orders. You may also email your orders to us at wlpssp@comcast.net and we will come up with a total for you and send you an email with a PayPal payment link *or we will work out another method of payment. We are in the process of creating a new shopping cart and web store, so please be patient during our transformations. In the meantime, happy shopping!
With Love from Salem, Yours in the Great Work
Richard & Gypsy
***In Memoriam***
My beloved Richard Ravish breathed his last mortal breath for this lifetime on the morning of September 15, 2012 e.v. and became his body of light. He was a truly consecrated and dedicated Mage and Witch who created White Light Pentacles/Sacred Spirit Products Inc. to promote the practice of magick and alternative spiritual lifestyles for personal and global transformation when there were few companies doing so. He established this wholesale and retail distribution network in 1981 e.v. and throughout the past thirty+ years he designed many sacred talismans and supported and distributed the work of the most talented and devoted artists and artisans who were in harmony with this vision. I will be soldiering on with this Great Work and keeping the lights of inspiration and dedication glowing here at White Light Pentacles, our store NU AEON and his newest sanctuary, our Temple of Stars, The Cosmic Connection here in Salem, Massachusetts. Come see us if you can. Witchcraft and The Holy Art of Magick are alive and well in Salem at 88 Wharf Street, Pickering Wharf.
Blessed Be With Love From Salem,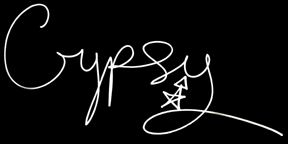 ™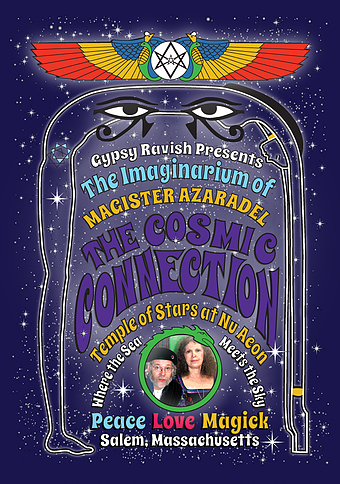 Salem's Newest Mystical Attraction!
Presentations, Classes, Workshops, Book Signings, Lectures,
Gypsy's new cd "Spirit Nation"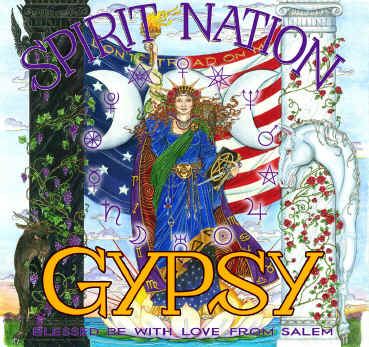 Unlike any other recording on the planet...
and you don't even have to join a secret society to hear it and enjoy it!
Spirit Nation is available at our Salem store NU AEON.
If you are a magickal practitioner, visiting Salem without seeing NU AEON is like visiting Paris without seeing the Eiffel Tower and the Arche de Triomphe. So when you next find yourself in Salem, Massachusetts searching for Witchcraft, Wicca, Thelemic and Ceremonial Magickal supplies, come see us at NU AEON, Richard and Gypsy's Cosmic Connection and "the best Witch Shop in Witch City"*.
Magick is ever changing but one thing that doesn't change is the safe space and welcoming atmosphere of this Occult Haven. You'll find wonderful jewelry, incense, ritual tools, talismans and lots of stuff for spells there too. Whether you are a Wylde Witch, a Wizard or a New Age Light Worker, Treasures and Illumination await you at NU AEON!
Tourists are always welcome.
Stop by and meet the NU Crew!
"the best Witch Shop in Witch City" ... Boston Phoenix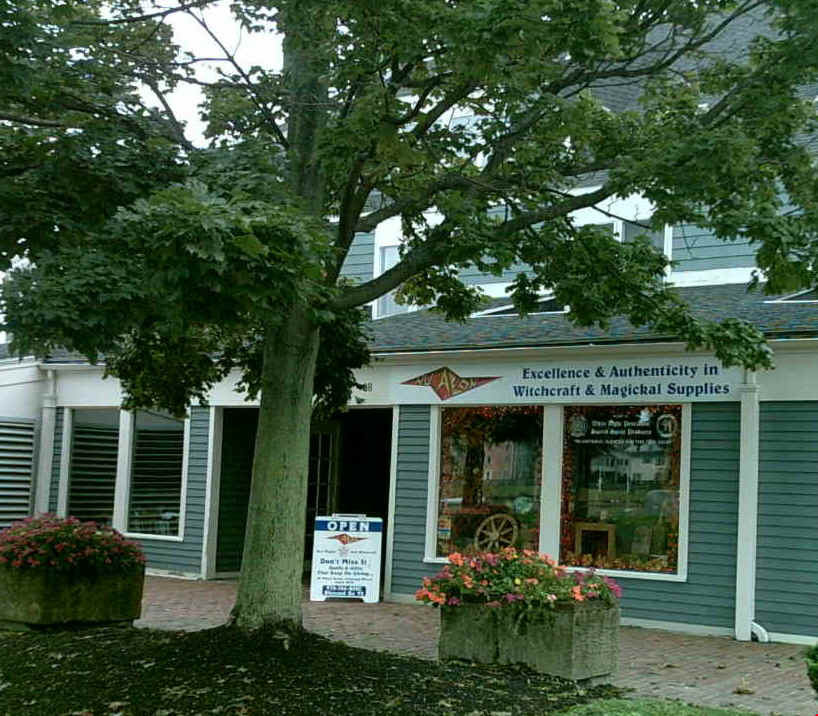 Special Events at our Salem store, NU AEON
The keys to the Mysteries remain the birthright of humanity, but the limitations of our material reality require that Illumination be catalyzed by life events, environmental influences and the conscious search for Life's meaning. It is our hope that some of the offerings on these pages will assist others to lift the veil of materialism and penetrate to the Spiritual realities that surround us.
Much, much more to come as we create our new website...stay connected!
Incense & Herbal Enchantments Candle Magick Pentacles & More Amulets & Talismans
Tools for Practitioners Recordings